Tomato, Basil And Balsamic Glaze Bruschetta. Bruschetta is all about getting the perfect blend of tomatoes, onions, garlic and basil together and immersing them in olive oil to bring out their intense flavours. When this blend is placed on top of toasted garlic bread and drizzled with balsamic glaze, gastronomy is born. I am not going to lie.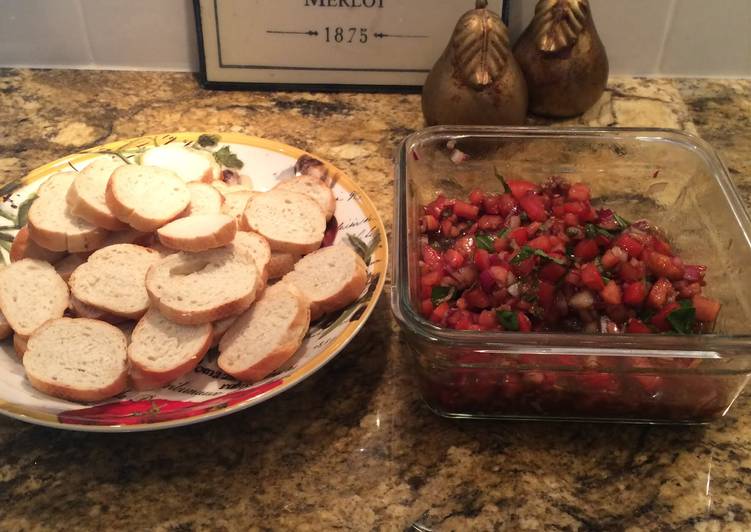 So I made this tomato bruschetta with balsamic glaze. I wanted to showcase the flavor of the fresh tomatoes that taste like they just came from the garden. Top the baguette slices with some tomato salad and garnish with basil ribbons. You can cook Tomato, Basil And Balsamic Glaze Bruschetta using 9 ingredients and 1 steps. Here is how you cook it.
Ingredients of Tomato, Basil And Balsamic Glaze Bruschetta
You need of Plum tomatoes finely chopped.
Prepare of Red onion finely chopped.
It's of Capers.
It's of Chopped basil.
It's of Olive oil.
Prepare of Balsamic glaze.
Prepare of Salt and pepper to taste.
Prepare of French bread sliced thinly and put under the broiler for a few min.
You need of Garlic chopped finely or crushed.
Place your bruschetta in a serving platter and drizzle balsamic. I make many types of Bruschetta like Tomato and Olive Bruschetta, Tomato and Basil Bruschetta, Chick-pea Bruschetta, Hummus Bruschetta etc. Today I am going to share recipe of Tomato Bruschetta with Balsamic Glaze. This appetizer or side dish makes a crispy complement to any.
Tomato, Basil And Balsamic Glaze Bruschetta step by step
Mix all the ingredients and refrigerate for a few hours. Serve with the toasted French bread rounds..
Ripe tomatoes Garlic clove Fresh bunch of basil leaves (washed) Dried oregano Extra virgin olive oil (EVOO) Balsamic glaze. VINCENZO'S PLATE TIP: It is best to use the freshest, ripest tomatoes you can find for Classic Italian Bruschetta! You can tell how ripe tomatoes are by their softness and. You can buy balsamic glaze or make it yourself. To make it yourself, simmer two cups of Arrange beans and tomatoes on a serving platter and scatter over ricotta or mozzarella and basil leaves.